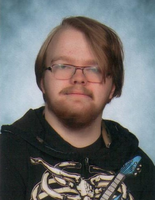 James M. Felker
WEST EATON . . .
James M. Felker, 17, of 5142 Parsonage Road, Eaton, died unexpectedly on Thursday, August 15, 2019, at his home.
He was born on May 24, 2002, in Oneida.
James spent his early years in Canastota, attending the Canastota schools. He has lived in West Eaton since he was twelve, and was an incoming Junior at Morrisville-Eaton Central School.
He enjoyed playing his PS4, watching u-tube videos, playing on his phones, and spending time with his family, especially his cousin, Dakota.
Surviving are: his mother, Ann VanEpps of Hamilton; his maternal grandmother, Mary M. Chafee of West Eaton; his maternal great grandmother, Margaret L. Niles of Canastota; his aunt, Carrie Bishop of Hamilton; two cousins, Nicholas Bishop of N. Chittenango, and Dakota Greene of Madison; as well as several great aunts, uncles, and cousins. James was predeceased by his maternal grandfather, Russell Chafee.
Calling hours will be held from 5 to 6 p.m. on Thursday, August 22, 2019, at the J. Homer Ball Funeral Home, Inc., 201 James Street, Canastota. Funeral services will be held at 6 p.m. at the funeral home, immediately following the calling hours. The Rev. William M. Wilcox, Pastor of the Fyler Community Church, will officiate.