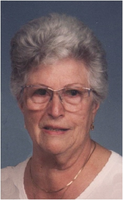 Dorothy Alberta "Cunningham" Bettinger
KIRKVILLE . . .
Dorothy Alberta Bettinger, 100, of Kirkville, passed away on Saturday, August 24, 2019, at her home.
She was born on October 8, 1918, in New Woodstock, the daughter of the late Albert and Mabel "Olga" (Kincaid) Cunningham.
Alberta spent her early years in Whitelaw, graduating from Canastota High School in 1937. She has lived in Kirkville since 1937.
She worked for Oneida Limited in Sherrill, General Electric in Syracuse, and later at Bristol Laboratories in Syracuse for 19 years, retiring in 1978.
Alberta was also a member of the Kirkville United Methodist Church, and the United Methodist Woman's Club, as well as a charter member of the Ladies Auxiliary of the Kirkville Volunteer Fire Company.
She married Arthur C. "Art" Bettinger on September 10, 1937, in Canastota. Art passed away on October 31, 1997.
Surviving are: one daughter and son-in-law, Brenda and David J. Hamilton of Kirkville; three grandchildren; Sherry and Terence Cooper, David A. Hamilton and Kari Dexter, and Lisa Hamilton and Sheldon Bristol; five great grandchildren, Terence, II, Kevin, Justin, and Brendan Cooper, Kristina Bogan, Eric, Karli, and DJ Hamilton, Alize Garlock, and Keith Caiello; two great great grandchildren, Elizabeth, and Braxton Bogan; as well as many nieces, nephews, and cousins. Alberta was predeceased by a brother, Stanley Cunningham.
Funeral services will be held at 1 p.m. on Saturday, August 31, 2019, at the J. Homer Ball Funeral Home, Inc., 201 James Street, Canastota. The Rev. Bruce Webster will officiate. Burial will be in Kirkville Cemetery. There will not be any calling hours.
In her memory, contributions may be made to the Kirkville Fire Company, PO Box 6, Kirkville, NY 13082, or to the Kirkville Cemetery, c/o Amy Hockey, 6200 Pools Brook Road, Kirkville, NY 13082, with envelopes available at the funeral home.