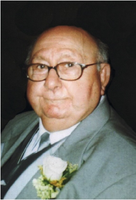 James J. "Jim" Rapasadi Sr.
CANASTOTA . . .
James J. "Jim" Rapasadi, Sr., 93, of 115 E. Chapel Street, passed away on Tuesday, August 27, 2019, surrounded by his family at the Oneida Healthcare Extended Care Facility, following a lengthy illness.
He was born on June 22, 1926, in Canastota, a son of the late Frank and Catina (Coco) Rapasadi.
Jim has lived in Canastota all his life, graduating from Canastota High School in 1944.
He worked for Bruno Novelty Company in Canastota for 32 years, retiring in 1987.
Jim enjoyed taking pictures, music, dancing, spending time at Sylvan Beach, Sunday dinners, and spending time with his family.
He was a member of St. Agatha's Church in Canastota.
Jim married Hazel M. Hamilton on August 1, 1952, in Canastota. Hazel passed away on April 12, 1997.
Surviving are: four sons and daughters-in-law, James, Jr. and Amy Rapasadi of Sherrill, Scott and Grace Rapasadi of Canastota, John and Susan Rapasadi of Liverpool, and Richard and Irene Rapasadi of Sylvan Beach; one daughter and son-in-law, Patricia and Reuben Pluff of Canastota; one sister-in-law, Sylvia Rapasadi; thirteen grandchildren; twelve great grandchildren; as well as many nieces, nephews, and cousins. Jim was predeceased by five brothers, Samuel Rapasadi, Isadore Rapasadi, Frank Rapasadi, Joseph Rapasadi, and Anthony Rapasadi; and two sisters, Jennie Sorbello, and Santina "Tina" O'Brien.
The family will greet friends on Tuesday, September 3, 2019, from 9 to 10 a.m. at St. Agatha's Church, 329 N. Peterboro Street, Canastota. A Memorial Mass will follow at 10 a.m. at the church. The Rev. Stephen P. Wirkes, Pastor, will officiate. Burial will be in St. Agatha's Cemetery, Canastota. Arrangements are under the supervision of the J. Homer Ball Funeral Home, Inc., 201 James Street, Canastota.
In his memory, contributions may be made to St. Agatha's Church Bereavement Ministry, 329 N. Peterboro Street, Canastota, NY 13032, with envelopes available at the church.