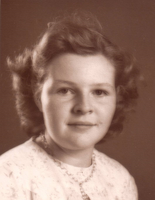 Marion Bell Wood
VERONA . . .
Marion Bell Wood, 87, of 6688 Sholtz Road, Verona, passed away on Sunday, September 1, 2019, at The Presbyterian Home for CNY, Clinton, following a brief illness.
She was born on February 20, 1932 in Plattsburg, NY, the daughter of the late Benjamin and Eva (Hayden) Bell.
Marion spent her early years in Parishville, graduating from Parishville High School in 1950. She later lived in Winthrop, NY, Glendale, AZ, Fort Jackson, NY, Durhamville for 35 years, and has lived in Verona with her daughter, Sally, for the last 16 years.
She enjoyed gardening, fishing, garage sales, her cats, and spending time with her family.
Surviving are: two daughters and a son-in-law, Sally M. Hardin and her fiancé, Wendell J. Dunn, of Verona, and Polly J. and Richard Peryer of Boise, ID; two sons and a daughter-in- law, Peter E. and Jane B. Powell of Westmoreland, and Benjamin B. Powell and his fiancé, Catherine A. Anderson, of Rome; one brother and sister-in-law, Paul and Eileen Bell of Roanoke, VA; one sister, June Hooper of Frederickstown, New Brunswick; eleven grandchildren; twenty-three great grandchildren; four great great grandchildren; as well as several nieces, nephews, and cousins.
Graveside services will be held at 11 a.m. on Thursday, September 5, 2019, at Union Cemetery of West Verona, Irish Ridge Road, Durhamville. The Rev. William M. Wilcox, Pastor of the Fyler Community Church, will officiate. At Marion's request there will be no calling hours. Arrangements are under the supervision of the J. Homer Ball Funeral Home, Inc., 201 James Street, Canastota.
In her memory, contributions may be made to Wanderers' Rest Humane Association, Inc., PO Box 535, Canastota, NY 13032.