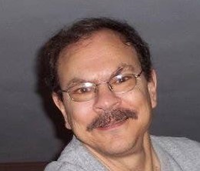 James E. "Jim" Verro
CHITTENANGO . . .
Jim Verro, 65, of Chittenango, passed away on Thursday, October 10, 2019, at Crouse Hospital, following a lengthy illness.
He was born on December 2, 1953, in Canastota, son of the late Joseph Verro and Philomena (Patterelli) Christenson.
Jim spent most of his early years in Fenner, graduating from Cazenovia High School in 1971. He married Nancy Skinner on June 18, 1977, in Manlius. He and his wife settled in Chittenango where they raised their children.
Jim always had a strong work ethic and dedication to his job. He was employed by Gray Syracuse in Chittenango for 41 years, retiring in 2015. He was a member of the former Eastside Vineyard Church in Syracuse. Jim was a strong-willed man with an unwavering faith in God. He was reserved and humble with a generous heart and strong empathy for others.
In his younger years, Jim was a big fan of muscle cars, hard rock music, spending time with his friends, and could be described as a rebel at heart. Jim was always a big fan of sports, especially baseball, football and basketball. He took special interest in local and world news, strategy games, and coin collecting. He appreciated nature and loved animals, especially his dog, Lulu. Jim's favorite moments were spent with his loved ones.
Surviving besides his wife, Nancy, are: son and daughter-in-law, David and Tara Verro of Fabius; three daughters and two sons-in-law, Allaina and Jake Rapps of White Plains, MD, Jessica and Ryan Ginney of Westvale, and Hollie Verro of Canastota; two brothers and sisters-in-law, Joe and Mary Verro of Canastota, Jeff and Jeanne Christenson of N. Salem, NH; four sisters and three brothers-in-law, Julie and Alan Foringer of Manlius, Janet and T. J. Hall of Verona, Kim and Steven Pettit of Marietta, GA, and Angela Leffew of Bennet, CO; five grandchildren, Noah and Penelope Eframson, Natalie Ginney, Brielle and Quinn Verro; as well as several nieces, nephews, and cousins.
Memorial services will be held at 4 p.m. on Tuesday, October 15, 2019, at the J. Homer Ball Funeral Home, Inc., 201 James Street, Canastota. The Reverend Doctor Wesley Fleming will officiate. In lieu of calling hours, there will be a gathering of family and friends following the service.
In his memory, please consider making a donation to help those in need to either the Rescue Mission, 155 Gifford Street, Syracuse, NY 13202, or to the Samaritan's Purse, PO Box 3000, Boone, NC 28607, with envelopes available at the funeral home.