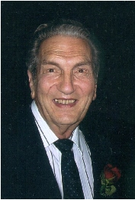 Tony J. Russitano Jr.
CANASTOTA . . .
Tony J. Russitano, 93, of Douglas Heights Drive, Canastota, passed away on Tuesday, October 15, 2019, at the Oneida Healthcare Center Extended Care Facility, following a brief illness.
He was born on June 13, 1926, in Canastota, the son of the late Antonio and Gaetana (Cesario) Russitano.
Tony has lived in Canastota all his life, graduating from Canastota High School in 1944.
He worked for Carrier Corporation in Syracuse for more than 40 years, retiring in 1988.
Tony was a communicant of St. Agatha's Church in Canastota.
He enjoyed going to Vernon Downs, traveling, doing crossword puzzles, playing BINGO, gardening, and spending time with his family.
Tony married Roccine M. Vecchio on January 3, 1948, in St. Agatha's Church in Canastota. Roccine passed away on March 20, 2013.
Surviving are his four children and their spouses, Donna M. and Bruce Stratton of Earlville, Anthony Paul and Mary Ann Russitano of Caroga Lake, Annette R. and Dr. John Janovsky of Venice, FL, and Alfred M. and Lori Russitano of Canastota; one brother, Peter Russitano of Canastota; nine grandchildren, Bruce Stratton, Stacey DeMuro, Michael Russitano, Matthew Russitano, Adam Russitano, Kaitlyn Russitano, John Janovsky, Jill Thompson, and Eric Janovsky; five great-grandchildren, Abigail Stratton, Jacob DeMuro, Sarah Stratton, Jessica Stratton, and Mia Janovsky; as well as several nieces, nephews, and cousins. Tony was predeceased by three brothers, Dominick, Rosario, and Joseph Russitano; and one sister, Ann Strong.
Funeral services will be held at 10:30 a.m. on Monday, October 21, 2019, at St. Agatha's Church, 329 N. Peterboro Street, Canastota, where a funeral mass will be held. The Rev. William A. Mesmer will officiate. Entombment will be in the Assumption Mausoleum at St. Agatha's Cemetery, Canastota. There are no public calling hours, however, the family will greet friends at a luncheon in the Church Center following the mass.
In his memory, contributions may be made to the Golisano Children's Hospital, c/o Upstate Medical University Foundation, 750 E. Adams Street, CAB Room 326, Syracuse, NY 13210, or to the Madison County Office for the Aging, Inc., 138 Dominick Bruno Blvd., Canastota, NY 13032, with envelopes available at the church.
Arrangements are under the supervision of the J. Homer Ball Funeral Home, Inc., 201 James Street, Canastota.