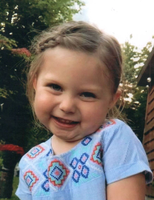 Addison M. Jones
WAMPSVILLE . . .
Addison M. Jones, age 4, was born on November 1st 2014, has earned her angel wings on October 23rd, 2019, while accompanied by her parents, Derek and Alissa (Allen) Jones of 100 N. Court Street, Canastota. Addison was diagnosed with Leukemia just a few short weeks before she passed.
She loved Peppa Pig, going camping with her family, riding her bike, going swimming, and playing soccer with her friends. Her favorite foods were tomatoes and cheese. She was such a fighter, and anyone who knew her, knew she was so spunky and loving, especially to her little sister, Tessa Jones.
Besides her parents and sister, Addison is survived by Grandparents: Shelly & Steve Shaw, Barb & Rich Allen, Tammy & Paul Scaramuzzino, and Heather & Mick Jones. Also, Great Grandparents: Sharon Romleski, June Allen, Nancy & Daryl Shaw, and Sharon & Gus Jones. She is also survived by 5 Uncles, 7 Aunts, 9 Cousins and many Great Aunts & Uncles.
Calling Hours will be held at the J. Homer Ball Funeral Home, Inc., 201 James Street, Canastota, from 4 to 8 p.m. on Friday, October 25, 2019. Private funeral services will be held at the convenience of the family. Pastor Jeff Rogers of the Church of the Nazarene, Canastota, will officiate. Burial will be in Walnut Grove Cemetery, Wampsville.
In her memory, contributions may be made to the Golisano Children's Hospital, c/o Upstate Medical University Foundation, 750 E. Adams Street, CAB Room 326, Syracuse, NY 13210, with envelopes available at the funeral home.