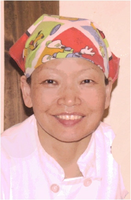 Yunmi Roy
CANASTOTA . . .
Yunmi Roy, 54, of 412 High Street, Canastota, passed away on Saturday, November 16, 2019, at her home following a lengthy illness.
She was born on December 12, 1964 in Chonpuk-Do, South Korea, the daughter of Sang-Ahk Seo and Soon-Duk Woo.
Yunmi lived in S. Korea until 1994, when she moved to Liverpool, NY, later moving to Canastota in 2003. She proudly became a citizen of the United States in 1999.
She worked as a chef at Ichiban Steakhouse in Liverpool for more than 20 years, retiring on September 1, 2019. She was the first woman Hibachi Chef in New York State, and was featured in an article about the Women of Syracuse.
Yunmi was a member of the YMCA in Oneida, and Believers' Chapel in Canastota.
She enjoyed gardening, bicycling, and playing and learning music.
Yunmi married Jeffery S. Roy on June 26, 1991, in Seoul, Korea.
Surviving besides her husband, Jeffery, are: one daughter, Andrea D. Roy of Canastota; her parents of South Korea; and three brothers and three sisters, all of South Korea; her in-laws; as well as several nieces, nephews, cousins; and her three rescue dogs, Bada, Yookji, and Baram.
Memorial services will be held at 1 p.m. on Saturday, November 23, 2019, at the J. Homer Ball Funereal Home, Inc., 201 James Street, Canastota, with a reception to follow at the Canastota VFW, 3835 Canal Road, Canastota. Pastor David Allen of Believers' Chapel will officiate. At Yunmi's request there will be no calling hours. Spring burial will be in Mt. Pleasant Cemetery, Canastota.
In her memory, contributions may be made to Wanderers' Rest Humane Association, Inc., PO Box 535, Canastota, NY 13032, or to the Greater Lenox Ambulance Service, Inc. (GLAS), PO Box 382, Canastota, NY 13032, with envelopes available at the funeral home.