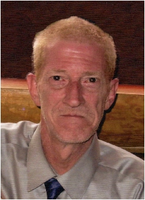 Jeffery Lewis VanValkenburg Sr.
CANASTOTA . . .
Jeffery Lewis VanValkenburg, Sr., 56, of 219 James Street, Canastota, passed away on Friday, December 7, 2018, at Upstate University Hospital, Syracuse, following a lengthy illness.
He was born on June 12, 1962, in North Kingstown, RI, the son of David and Julia (Sherman) VanValkenburg.
Jeff spent his early years in Rhode Island, Rochester, NY, California, and Illinois, graduating from Jacobs High School in Illinois. He has lived in Canastota for the last 16 years.
He was a proud member of the United States Air Force from 1980-1992.
Jeff worked at the John Deere warehouse distribution center in Syracuse, and had previously worked in management at various retail stores.
He enjoyed computer programing, fishing, his cats, grilling outdoors, his vegetable garden, and spending time with his family.
Surviving are: the love of his life, Karen Mortise of Canastota, and her daughter, Angelina Shimkus of Rochester; one son, Jeffery L. VanValkenburg, Jr., of Plattsburgh; his mother, Julia VanValkenburg of Canastota; one brother and sister-in-law, Michael and Laura VanValkenburg of Barnes Corners; one sister, Jennifer Bellino of Canastota; one aunt, Terri Edwards of Canastota; as well as many nieces and nephews including, Kendra Bellino, Devon Bellino, Scott Monica, Leslie Deysenroth, Kurt Hartley, and Anna Webb; and many cousins. Jeff was predeceased by his father.
Memorial services will be held at 1 p.m. on Saturday, December 15, 2018, at the J. Homer Ball Funeral Home, Inc., 201 James Street, Canastota. Pastor Donna Chapman of the Whitelaw Presbyterian Church will officiate. Burial will be in Whitelaw Cemetery, Canastota. There will be no calling hours. In his memory, contributions may be made to Clear Path for Veterans, 1223 Salt Springs Road, Chittenango, NY 13037, or to Wanderers' Rest Humane Association, Inc., PO Box 535, Canastota, NY 13032, with envelopes available at the funeral home.
J. HOMER BALL FUNERAL HOME, INC.
Canastota
A Trust 100 Family Owned Funeral Home