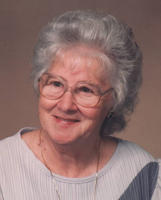 Elizabeth R. Chafee
CANASTOTA . . .
Elizabeth Rosabeth Chafee, 92, of 136 Chapel Street, Canastota, passed away on Sunday, December 23, 2018, at her home, following a lengthy illness.
She was born on May 13, 1926, in Canastota, the daughter of the late Theodore and Viola (Yumons) Hart.
Elizabeth was a lifelong resident of the Canastota area, attending the area schools.
She worked for Queensboro Farm Products in Canastota for many years, retiring in 1988. She had previously worked for the West End Brewery in Utica, and on the local mucklands.
Elizabeth enjoyed bird watching, embroidery, and baking Christmas cookies. She was a little jokester who loved to laugh, and spend time with her family.
She married Lyle P. Chafee on June 3, 1949. Lyle passed away on April 16, 1977.
Surviving are: one son and daughter-in-law, Lyle B. and Lynn Chafee of Canastota; five daughters, Lila Ward of Oneida, Irene VanVorst of Oneida, Lily Beth Chafee of Syracuse, Rose Chafee and Peter of Canastota, and Vera Chafee of Chittenango; several grandchildren and great grandchildren; four sisters and a brother-in-law, Beverly Runions of Syracuse, Arlene Loomis of Canastota, Joyce and Hector Cortez of Canastota, and Carol Hubert of California; as well as many nieces, nephews, and cousins. Elizabeth was predeceased by two sons, Darwin Chafee, and Russell Chafee; and three brothers, Butch Hart, Bill Hart, and Paul Hart.
Funeral services will be held at 11 a.m. Friday, December 28, 2018, at the J. Homer Ball Funeral Home, Inc., 201 James Street, Canastota. The Rev. William M. Wilcox, Pastor of the Fyler Community Church, will officiate. Burial will be in Stockbridge Cemetery, Munnsville. Calling hours will be held on Thursday from 6 to 8 p.m. at the funeral home. In her memory, contributions may be made to Hospice & Palliative Care, Inc., 4277 Middle Settlement Road, New Hartford, NY 13413, with envelopes available at the funeral home.
J. HOMER BALL FUNERAL HOME, INC.
Canastota
A Trust 100 Family Owned Funeral Home