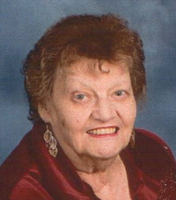 Barbara P. Tretsch
CANASTOTA . . .
Barbara P. Tretsch, 80, of 400 Lamb Avenue, Canastota, passed away on Friday, January 4, 2019, at The Grand, Chittenango, following a brief illness.
She was born on November 28, 1938, in Syracuse, the daughter of the late Lottie (Lubianice) Flinn and Herbert Flinn.
Barbara spent her early years in Syracuse, attending Immaculate Conception School. She later lived in Fulton for twenty years, moving to Canastota in 1998.
She was a member of St. Agatha's Church in Canastota, and sang in the church choir. She was also a member of the Red Hat Society.
Barbara worked for Syroco in Baldwinsville for several years.
She enjoyed shuffle board, playing cards, and spending time with her family and friends.
Barbara married Donald Tretsch in 1985, in Fulton. Donald died in 1992.
Surviving are: her brother, Patrick Flinn of Florida; her brother-in-law, Peter Sorbello of Canastota; as well as several nieces, nephews, and cousins. Barbara was predeceased by her son, Steven A. Spencer; and her sister, Suzanne Sorbello.
Funeral services will be held at 10 a.m. on Friday, January 11, 2019, at St. Agatha's Church, 329 N. Peterboro Street, Canastota, where a funeral mass will be held. The Rev. Stephen P. Wirkes will officiate. Burial will be in St. Mary's Cemetery, Fulton. Calling hours will be held on Thursday from 4 to 6 p.m. at the J. Homer Ball Funeral Home, Inc., 201 James Street, Canastota. In her memory, contributions may be made to the American Cancer Society, 6725 Lyons Street, East Syracuse, NY 13057; or to St. Agatha's Church, 329 N. Peterboro Street, Canastota, NY 13032, with envelopes available at the funeral home.
J. HOMER BALL FUNERAL HOME, INC.
Canastota
A Trust 100 Family Owned Funeral Home