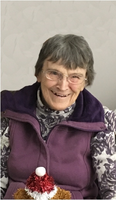 Marion MacElwain
CANASTOTA . . .
Marion MacElwain, 93, of 400 Lamb Avenue, and formerly of North Court Street, Canastota, passed away on Wednesday, January 16, 2019, following a short illness.
She was born in Chicago, IL, and grew up in Sherburne, NY.
Marion was an avid doll collector and doll maker. She was a skilled seamstress, and could make the complete doll bodies right down to the shoes. Marion was actively involved in doll clubs for many years. She had many hobbies, which included repairing bikes, riding motorcycles with her husband, John, and doing all types of home repairs herself. Marion loved to read, and visit garage sales and flea markets, always looking for those special finds. It was her family that she loved the most, and enjoyed spending as much time with them as possible. Marion was loved by all who knew her. She was a very kind, loving person and will be remembered and missed.
She is survived by her three children, Linda Ackerman of Syracuse, Sally and Gary Millis of Canastota, and David MacElwain of Canastota; and a grandson, Jeremy Lehr of Syracuse. Marion was pre-deceased by her husband, John E. MacElwain in 1988; a grandson, Michael Thompson in 2014; and her sister, Dorothy A. Schram in 2011.
Memorial services will be held at 2 p.m. on Saturday, January 26, 2019, at the J. Homer Ball Funeral Home, Inc., 201 James Street, Canastota. The family will greet friends on Saturday, prior to the service, from 12 Noon to 2 p.m.
J. HOMER BALL FUNERAL HOME, INC.
Canastota
A Trust 100 Family Owned Funeral Home