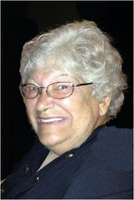 Linda M. Phillips
CANASTOTA . . .
Linda M. Phillips, 74, of 112 Mill Street, Canastota, passed away unexpectedly on Thursday, January 24, 2019, at St. Joseph's Hospital, Syracuse, following a brief illness.
She was born on December 24, 1944, in Oneida, the daughter of the late Earl and Pauline (Snyder) Coons.
Linda spent her early years in Perryville, attending the Cazenovia schools. She has lived in Canastota most of her life, and had also lived in Texas for several years.
She worked for Oneida Limited Silversmiths in Sherrill for 25 years, retiring in 1983.
Linda enjoyed spending time with her family, especially her grandchildren.
She was a member of the American Legion Charles Miller Post # 140 Women's Auxiliary in Canastota.
Linda married Harold F. Phillips, Jr., on March 20, 1971, in Wampsville. Harold passed away on January 27, 2019.
Surviving besides her husband, Harold, are: two sons, Brian Phillips of Oneida, and Kirby Phillips of Canastota; one daughter, Amanda Patterson and her partner, Jason Castano, of Dripping Springs, TX; seven grandchildren, Kyle Phillips, Jakob Phillips, Jena Patterson, Jaydon Patterson, Stephanie Phillips, Angela Phillips, and Amber and Willie Phillips; six great grandchildren, Riley, Skyler, Brendon, Timothy, Jesse, and Kyran; two brothers, Larry and Lauren Coons of Perryville, and Jerry Coons of Canastota; three sisters, Caroline Niles of Perryville, Sandra Levan of Perryville, and Pamela and Steven Kent of Cazenovia; as well as several nieces, nephews, and cousins. Linda was predeceased by a son, Dennis Phillips, who died on October 11, 2001; and a son-in-law, Jerry Patterson, who died on September 6, 2010.
Funeral services will be held at 11 a.m. on Saturday, February 2, 2019, at the J. Homer Ball Funeral Home, Inc., 201 James Street, Canastota. Nathan and Clyde Phillips-Frey will officiate. Burial will be in Lenox Rural Cemetery, Canastota. Calling hours will be held on Friday, February 1, 2019, from 4 to 7 p.m. at the funeral home. In her memory, contributions may be made to Wanderers' Rest Humane Association, Inc., PO Box 535, Canastota, NY 13032, with envelopes available at the funeral home.
J. HOMER BALL FUNERAL HOME, INC.
Canastota
A Trust 100 Family Owned Funeral Home